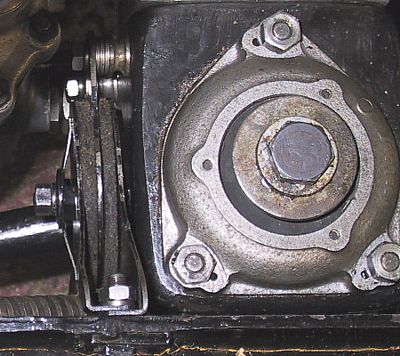 Following a very early start to the day I disconnected yesterday's work, lifted the engine to a height that allowed the front engine mountings to clear the chassis, swapped them over and re-did all of the bolts and shims. This wasted about four hours!
Having got back to where I thought I had already arrived I then installed the friction dampers - but they did not line-up correctly. JB and I then spent about four man-hours dismantling, straightening, re-attaching, etc until a good alignment was achieved. This shot is of the off-side unit where it can be seen that the upper bolt required 3 additional washers, and the lower bolt 2, to give an accurate seat. The near-side unit required similar treatment.
Installation of the exhaust manifolds is simple.
The near-side, 'B', distributor slots onto its studs (remember the gasket) and locates with the cross-shaft skew gear. The 'A' distributor can be a little more complicated. Before installing, the oil pump drive shaft needs placing in the cavity beneath the distributor; it is IMPORTANT to ensure that the splines engage. The distributor can be placed over the studs and partially engaged with the skew gear. The base spigot of the distributor also needs to be engaged with the top spline of the oil pump drive shaft. To achieve this, unless luck decrees that they fit at first attempt, it is necessary to put the car into gear (3rd works best) and gently rock the car to enable the splines to couple.