Rolls-Royce Phantom III
'The Forgotten Engine'
A manual of maintenance and overhaul procedures for the
Rolls-Royce Phantom III V12 engine
This book has been written by an enthusiast for other enthusiasts. It is not a commercial publication. The Limited Edition print run of 600 copies has been written and published by Stephe Boddice for the benefit of the Rolls-Royce community. The standard of printing, photographic reproduction and binding aims to reflect the quality that is associated with the marque. It is hoped that the book will be a benefit not only to all Phantom III owners but also to all other car enthusiasts who appreciate the engineering ingenuity that went into building, and rebuilding, these wonderful cars.
All expenses have been bourne by the author so every purchase will help to offset the huge investment of time, effort and money that this book has absorbed. Please phone and order a copy - I am sure that you will not be disappointed.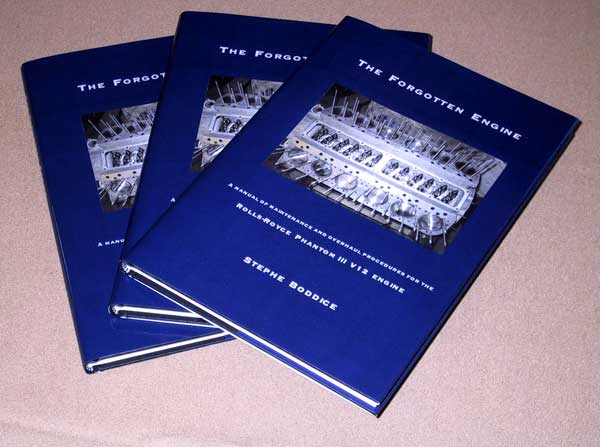 This book is the first comprehensive manual dealing with the Phantom III engine. It covers virtually every task from replacing the HT leads to a complete strip down and overhaul. The manual is privately published by Stephe Boddice in a Limited Edition of 600 numbered copies.

Click the icons to check out the quality

Specification: -
Hard-backed, perfect-bound cover with dust jacket

146 pages printed on high-quality 115gsm Arctic Silk paper

Over 120 colour photographs of components

Step-by-step instructions for each procedure

Appendices covering specifications, factory modifications and thread tables
How to order: -
USA - Gary Pollard at the Phantom III Technical Society. Tel: +1-919-366-1303 Costing $90 +p & p

UK and worldwide - Stephe Boddice. Tel: +44-(0)1562-700225 Costing £45 + p & p

e-mail to mail@boddice.co.uk - DO NOT include credit card details; this is not an encrypted site
Book reviews: -
'Phantoms' - The Phantom III Technical Society in the USA (September 2004)

'The Bulletin' - The Rolls-Royce Enthusiasts' Club in the UK (B266 - September/October 2004)

'Flying Lady' - The Rolls-Royce Owners' Club of America (September/October 2004)

'The Automobile' - (December 2004)

'Præclarum' - The Rolls-Royce Owners' Club of Australia (February 2005)